What is Pin code?
Pin Code is a six-digit unique identification code used to identify the post office across the India. For some country it is called as Zip code. It helps to sort and deliver post mails and parcel. This system avoid confusion for duplicate address while address finding.
First digit indicates the region and second digit represent sub region.
1 - Delhi, Haryana, Punjab, Himachal Pradesh, Jammu and Kashmir, and Chandigarh
2 - Uttar Pradesh and Uttarakhand
3 - Rajasthan and Gujarat
4 - Maharashtra, Goa, and Dadra and Nagar Haveli
5 - Madhya Pradesh and Chhattisgarh
6 - West Bengal, Odisha, and Jharkhand
7 - Assam, Meghalaya, Arunachal Pradesh, Nagaland, Manipur, Mizoram, and Tripura
8 - Bihar and Jharkhand
9 - Andhra Pradesh and Telangana, Karnataka, and Tamil Nadu, Kerala, and Puducherry
The second digit represents the sub-region. The third digit represents the district within the sub-region. The last three digits represent the specific post office or delivery area.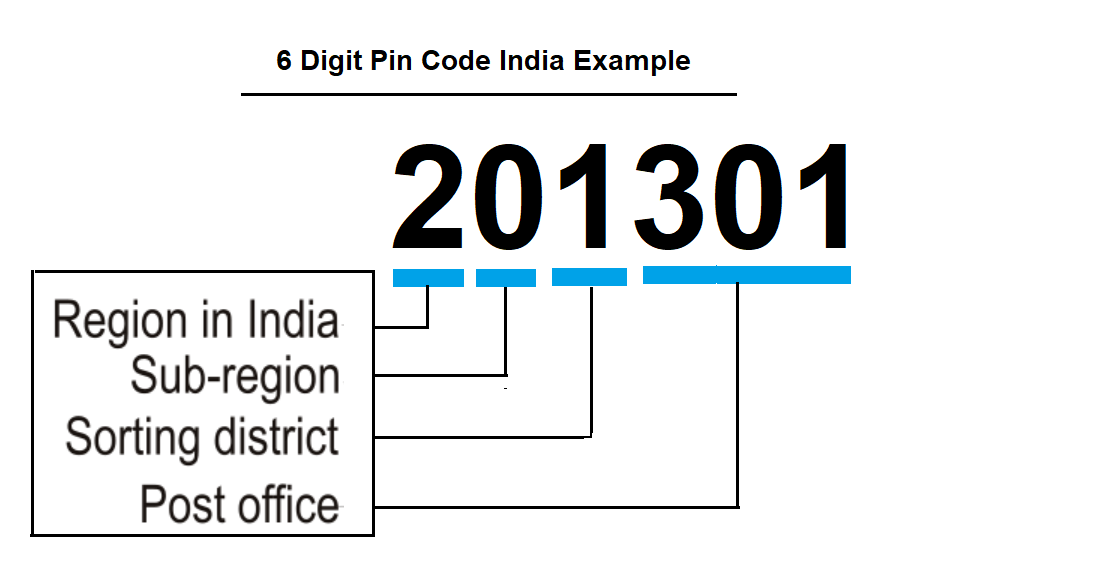 First 2 digit postal code of Pin Code.
| | | |
| --- | --- | --- |
| First 2 digit Postal Code | India State | and Region |
| 01 - Delhi | | 67-69 - Kerala |
| 12-13 - Haryana | | 682 - Lakshadweep |
| 14-16 - Punjab | | 70-74 - West Bengal |
| 17 - Himachal Pradesh | | 744 - Andaman & Nicobar |
| 18-19 - Jammu & Kashmir | | 75-77 - Odisha |
| 20-28 - Uttar Pradesh | | 78 - Assam |
| 30-34 - Rajasthan | | 79 - Arunachal Pradesh |
| 36-39 - Gujarat | | 79 - Manipur |
| 0-44 - Maharashtra | | 79 - Meghalaya |
| 45-48 - Madhya Pradesh | | 79 - Mizoram |
| 49 - Chhattisgarh | | 79 - Nagaland |
| 50-53 - Andhra Pradesh | | 79 - Tripura |
| 50-53 - TELANGANA | | 80-85 - Bihar |
| 56-59 - Karnataka | | 80-83, 92 - Jharkhand |
| 60-64 - Tamil Nadu | | |